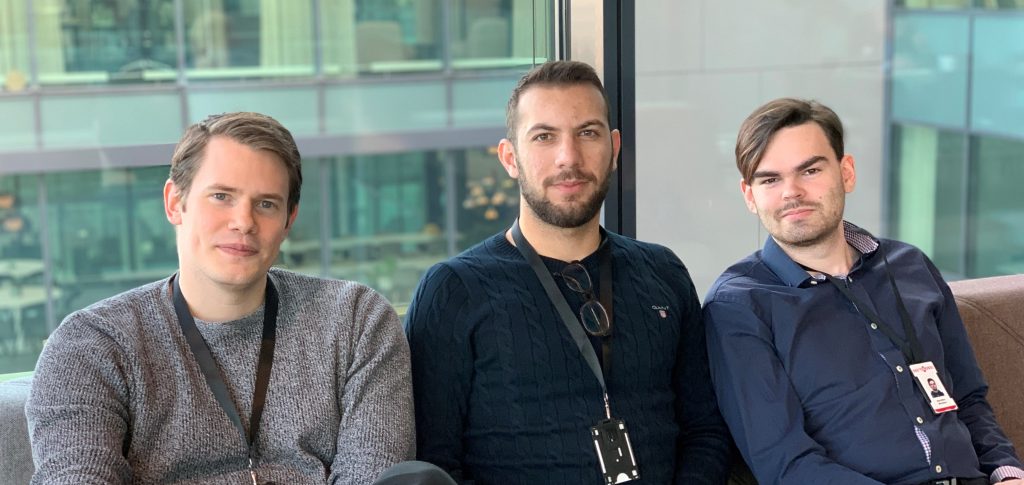 At Softronic it is important to find young IT talents and we talk to three of them: Aykut, Kim and Maximilian. They are in their final year of Computer Technology at KTH Royal Institute of Technology.
Aykut, Kim and Maximilian came into contact with Softronic this spring when they were doing a project course at KTH. The project was designed to learn how Agile project management works, and to develop a bigger application than they had done previously in their course. When they had to find a company in the industry, they decided to choose Softronic following a recommendation from another student. The project was to be carried out over two months using Scrum as the methodology.
Can you explain a little more about the project you were involved in?
"We were part of a larger project that was developing a new chatbot. The project included the KTH group (us three) and a group from Softronic. The Softronic group focused on the machine learning for the chatbot, while we worked on the database, the APIs and the web interface," says Maximilian.
"It also included providing detailed documentation/comments on the code, writing test cases, performing tests and using version management," adds Aykut.
All three are planning to take their final exams in 2020, but they have already secured permanent employment at Softronic.
"After we had completed our project work, they offered us the chance to continue developing the project over the summer. And then in the autumn we were offered a permanent job. I was so happy," says Maximilian.
"It's so great. Straight after the project I was offered a job as a consultant and now I'm here," says Aykut.
"Yes, it feels like proof that the course reflects what is expected by the industry," adds Kim.
What is the best thing about working for Softronic?
"Great colleagues and efficient procedures that make it easier to focus on what is important: the development and delivery of products," says Kim.
"For me, the best thing about working for Softronic is my wonderful colleagues and the fact that I can continue to grow both as a developer and an individual," says Aykut.
"I'm given incredible freedom with my work and I get to make my own decisions every day. I'm also given a lot of opportunity to come up with new ideas and improvements for the project and project methodology," says Maximilian.
What do you think about your future at Softronic?
"The future looks bright. I really enjoy it here and I'm working with the latest frameworks, which means that I'm always learning new exciting things and I'm keeping up with developments," says Maximilian.
Both Kim and Aykut nod in agreement and say:
"Yes, we think the future is bright at Softronic as well. There are many interesting challenges ahead of us."
Aykut adds:
"I'm so happy that we've got such a great consultancy manager who really listens to us and takes matters in hand. It's also really fun to be in a good team, where everyone in the group looks to the future when looking at knowledge development. We're really good at working together, sharing knowledge and helping each other when we need to."
Softronic invests in young talents
Ann-Marie Östervall works as a consultancy manager at Softronic and is the manager of Aykut, Kim and Maximilian. She explains how important it is for Softronic to invest in young, skilled employees.
"For us it's important to invest in new, young talents. They bring new insights and knowledge and complement our own group, who have been around for quite some time. It's difficult to find talented developers, so we wanted to offer them a job as soon as they had finished their work experience, rather than waiting until they had completed their studies. We didn't think it was a problem that they hadn't finished their course. We are flexible and realised from the start that they would need different amounts of time off from work for their studies during their first year with us. It's important for them to take their final exams, and I think that together we've found the right balance between studies and work," says Ann-Marie.
She adds:
"I'm so happy that they're enjoying their work here and feel that their tasks are helping them to develop. They have an incredible amount of motivation and commitment, which is infectious for the others in their group.
We'd like to wish you a very warm welcome to Softronic!"
If you are interested in working for Softronic – check out our job vacancies here! 
We have a trainee programme called Gate1 – read more about it here!