Application Management – Focus on your operations
Do you need to postpone a release again? Do you lose the continuity in your application management/development as soon as one of your team is away? Do you often have to train new people up? Do you have to check when your support agreement is being renewed?
It can be difficult and challenging to find enough time to develop your own operations while maintaining and developing your applications.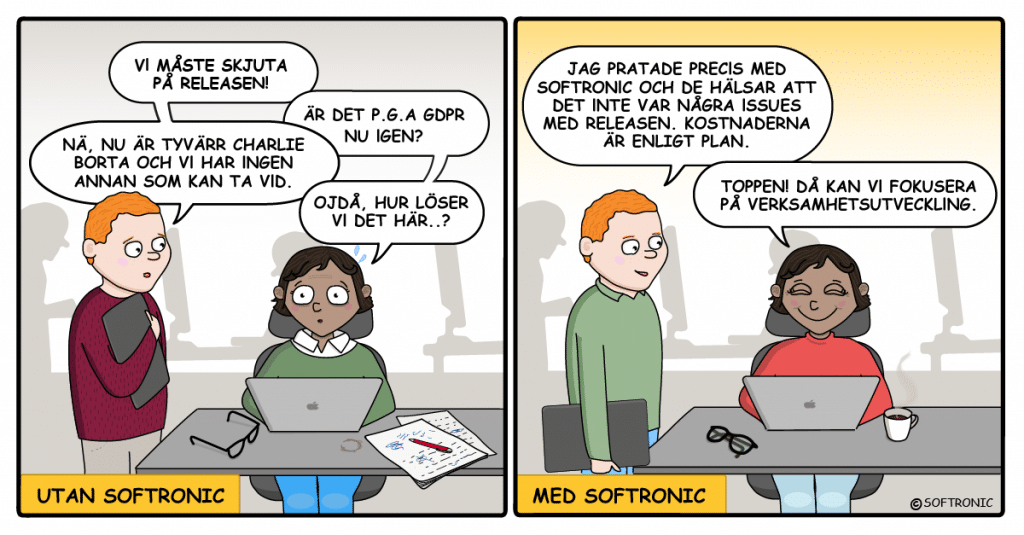 We understand your operations and the requirements you face. Let us focus on your applications, resulting in lower risk, a better impact on your operations and a lower cost per application. This will allow you to focus on your operations.
Our Application Management service makes sure that your application is continual, stable and available. By choosing Softronic, you will gain a flexible supplier that takes responsibility and focuses on your operations. This will have a guaranteed effect at low risk and at a low cost over time!
Optimise and drive the development of your systems
We continually work with structured market monitoring to future-proof and optimise your systems so that they keep up with the digital transformation. We do this, for example, by organising an innovation workshop with you as a customer so that we can always ensure that your applications are being developed to fit in with a quick and changing world.
Teams with the right staff
We work with you, the customer, to set up the team that reflects your needs for a specific order.
The roles that are often included in an application management team are: Management Leader, Customer Manager, Requirements and Analysis Manager, Scrum Master, Support and Training Manager, Systems Architect and developers, testers and UK designers.
Tool support gives you full insight
If you, the customer, have the right tools and technical support, you can be involved at the level you want. For example, you can use a shared platform such as the task management system Jira and Confluence to give you full insight into the project without having to worry about the day-to-day work.
Focus on your operations
Our service allows you to keep a better check on the costs and we guarantee you secure and worry-free management. Basically you will be able to focus on the right things in your operations at all times, while we look after your applications.
Contact
If you have any questions about our Application Management Service, contact
Thomas Tienso
Email: thomas.tienso@softronic.se
Telephone: +46(0)707-425 549