In April, Microsoft is going to release 'Release Wave 1 2021' for Business Central, with the product being upgraded from version 17 to 18. Each new version offers new functionality and better performance and gives you, as a Business Central user, a better system without it costing you any extra. The associated apps will also be upgraded to a new version in conjunction with this. In this post, Gea Alsterberg, Managing Consultant for ERP, has decided to highlight some of the new features that are being released in April, which she believes may be of interest to many of our customers.
Improvements to Business Central
Dimensions
It is easy for something to be registered with the wrong dimension setup. Until now it has been quite tricky to correct this and it has often meant having to credit and re-register with the correct value. You can now go to the General Ledger Entries page, where the Correct Dimensions action lets you correct any incorrect dimensions on posted entries by simply editing the dimension value, adding new dimensions or removing them. If you are an administrator, you can also lock dimensions for corrections and prevent any changes being made to closed accounting periods; you can also view a log to see which changes have been made and by whom.
As well as being able to correct any incorrect dimensions, there is also brand new functionality for managing dimensions. This allows you to set rules for which dimensions will be used for what; for example, some dimensions will only apply to items. So it is no longer an 'all or nothing' approach to the standard dimensions.
Importing and reconciling bank statements
It is normal for companies to want to reconcile general ledger entries in Business Central with bank account statements. In this new version this is now considerably easier, as there is an option to import the .csv or .txt files that you have received from the bank, and use the guide in Business Central to map the transactions from the file with the columns you want to reconcile. So the fact you receive different formats from different banks is no longer a problem.
Adjust inventories
There is a new option to adjust your inventories using warehouse documents. Basically, you can use the Inventory Receipt and Inventory Shipment documents to adjust your inventories. Inventory Receipt allows you to add to the open balances, while Inventory Shipment allows you to write off missing goods or goods that are considered to be missing, for example, following an inventory.
Improved item tracking
Many businesses have requirements in place for tracking items or monitoring products based on warranty periods or expiration dates. Business Central's functions for managing serial and lot numbers can quickly establish where and when the items have been delivered and where they are currently being stored. The improved item tracking functionality and the new Availability by Lot function create better conditions for monitoring inventories and following an item's transaction flow.
Contact card
Many improvements have also been made to both the Contact List page and the Contact Card itself, partly as a result of Business Central's connection to Outlook and Teams. The Interaction Log Entries FastTab on the Contact Card provides easy access to the history of the relationship and the contacts there have been between your company and the person or organisation in question. It provides excellent sales and marketing support for any Business Central users who do not have a separate CRM system, such as Microsoft Sales.
Improvements within the Microsoft 365 platform
Direct connection to Teams
Since January, there has been an integration between Business Central and Teams, and this will now be rolled out more broadly. It allows you to cut and paste a link from Business Central into a Teams chat and use this to share all the relevant content with your colleagues. You can edit fields and make changes directly in the Teams window, without having to switch to the Business Central view. You can also look up Business Central contacts from the Microsoft Teams search box, and you can print from the Teams app, for example, from your phone or tablet.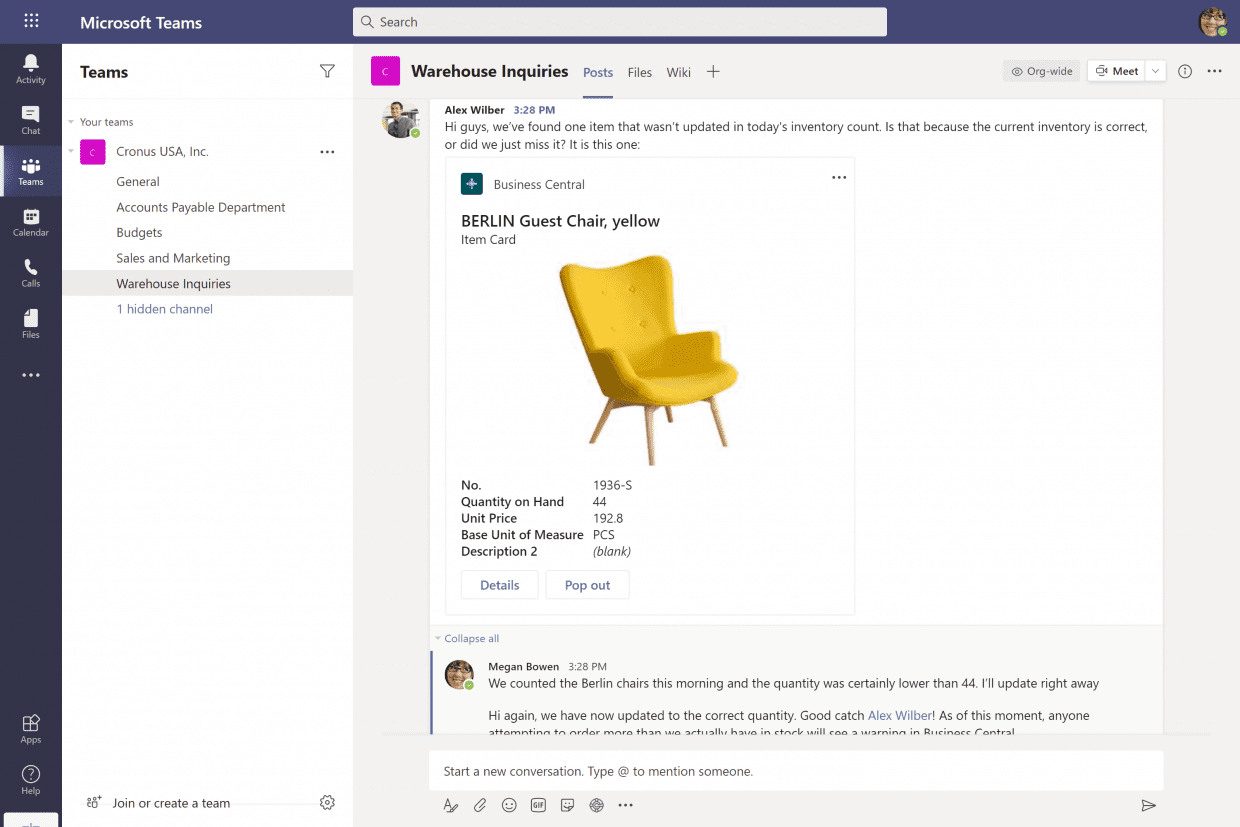 Connect data between Word and Business Central
If you want to send a document to many recipients, for example, to your customers and contacts as part of a sales campaign, you can use Word's merge function to customise the content in each document by retrieving data about the recipients from Business Central.
Universal Print
Microsoft is extremely proud of its new cloud printing function: 'Universal Print'. This is a Microsoft 365 service that offers simple print management and enables Business Central users to send documents and reports to any printer in your Universal Print setup. In practice, this replaces a printer server as you can use this cloud service instead to manage your physical printers. Please note that Microsoft has a separate licence for Universal Print and it is not included in Business Central.
Connect Power BI via API
Of course, there are also improvements in the Power Platform and this includes the connection between Business Central and Power BI. Instead of being limited to web services, you can now use the modern Business Central APIs to create Power BI reports and dashboards. In summary, this enables a better and faster connection when working with data analysis in Power BI. (According to Microsoft, this function will not be available until May, i.e. shortly after the April release.)
Contact
Would you like to know more about Business Central or maybe you are considering upgrading from an existing NAV installation? Contact Henry Skog on +46(0)709-134 228 and he will tell you more about the opportunities that are available.