The 'From Business to Buttons (FBTB)' digital conference was held on 7 May and Softronic was there, of course, represented by Erica Bronge and Linnéa Wahlfridsson, who were doing some trendspotting for us. The day featured a number of inspiring and interesting presentations on diverse areas in both UX and service design.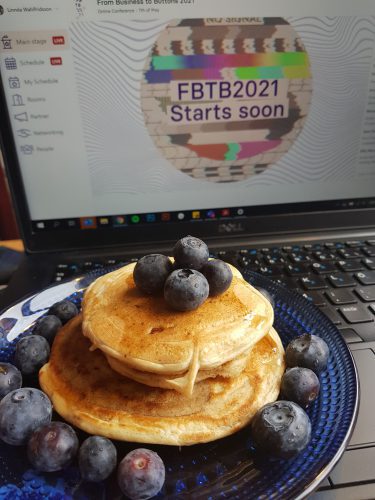 Speakers from major companies like Netflix, Microsoft, Google and even Nintendo shared their knowledge and the lessons they had learned in the industry. Here are what Softronic's representatives thought the hottest tips and most interesting topics were:
Conversational Design with author Erika Hall
This presentation looked at how we as people communicate with each other and how technology has changed this, both in a modern and historical context. Conversations are traditionally two people talking, but have you considered that exchanging videos, emojis, memes, etc. can also be conversations, which have been enabled by modern technology?
Over time, written conversations have changed from being a formal medium, such as letters, books and essays, to day-to-day exchanges in a conversational tone over chats, etc. This is why it is important to keep up with the times and support this new kind of conversation when designing technology. One of the key concepts is that a conversation is about both talking and listening; giving and taking. This is why interactions with both input and output give users a sense of belonging. One obvious example is, of course, chatbots, which sadly do not always feel very natural for us to communicate with. But something else people do not really think about are conversations with Google. When you ask a question, you get an answer; and if you want to know something else, you ask another question and get new answers. This is where this technology has a give-and-take approach, which makes users feel comfortable with the interaction.
Hall also asked some extremely interesting questions that hit the nail on the head as to why written communication is much more difficult than verbal communication:
What happens if my communication ends up in the wrong hands?
– With someone who does not understand the context?
– With someone who is not the intended recipient?
These questions feel extremely relevant when you look at how the debating atmosphere has changed to a point where anyone can write anything on the Internet and reach out to the entire world. Can we design ourselves out of the problem of people unconsciously (or consciously) misunderstanding each other? And by doing so, can we counteract the growing polarisation? Concepts like Twitter, for example, seem to have been designed in a way that ensures that the sender's intentions and messages will be misinterpreted, with people trying to convey something with an extremely limited number of words without being able to show the context, etc.
The Story of Nintendo Wii with Shinichiro Tamaki
We were taught how important it is for interactions to be intuitive, so that users can understand what they can do and will want to continue using the service. In this particular case, it is about games, and more specifically the Nintendo Wii console and the old classic Super Mario Bros. on NES. The player makes decisions in the game, based on how the course or interface is designed. If they can see they have made the right decisions, they will have fun and will continue to play. This is particularly relevant for games like Super Mario Bros. et al. where the interface has virtually no text or instructions.
How to lead your CEO with Jake Knapp, creator of the design sprint
Although it was interesting in general to have 'design sprint' explained, the main topic was about how to best convey your ideas to a company's CEO or other people in decision-making positions. If you come up with one single 'perfect idea' and expect to have it approved, there is a risk that it will be rejected. To avoid this, it is good to produce a number of alternative ideas (which solve the same basic needs), so that the decision-maker can choose from them. Giving the person the opportunity to choose between options A, B or C, makes them feel involved in the process, and it is much easier to answer the question, "Do you prefer X or Y?" than "What do you think about this specific idea?". It is also important to test your ideas thoroughly, so that a decision on a final solution is not based solely on a gut feeling.
Design sprint is a kind of agile method to quickly generate and test ideas with the whole team involved. Over the period of a week, you go through all the classic design stages: goal formation, idea generation and sketches, decision-making and voting on ideas, prototyping, testing and iteration. This method is therefore particularly effective in a CEO scenario, as it specialises in producing several alternative ideas that are all feasible.
As well as these presentations, we were also inspired by how to retain and cultivate curiosity in your team; how to create a design that inspires trust; how to really identify the users' basic needs; and more concrete tips on how a design organisation should be structured and how design systems work. Considering this was a digital event, it was incredibly rewarding. But next time we hope that we can be there in person to soak up even more knowledge and lessons!