All sectors are being forced to adapt to the times we are living in. This has accelerated the pace of digitalisation, with most people switching from working in an office to working from home, having meetings online via Teams, Zoom, etc. Conferences, meeting places and events are going digital, including 'digital stands', where companies exhibit their offers and visitors can pop by.
The HVAC industry is no exception. Fastighetsfokus VVS will be taking place online on 25 November; this is a meeting place for those interested in energy, the environment and the economy. At the trade fair you will find the latest products and solutions from the leading manufacturers on the market. This is a perfect trade fair for consultants, installers, property owners or property managers.
Softronic's customer VVS Info will be participating on site, presenting the RSK database, which Softronic was involved in building. The RSK database makes it easy to find information about HVAC products, including assembly instructions, product data sheets, type approvals, images, etc. During the trade fair you can attend digital seminars and visit exhibitors at their digital stands.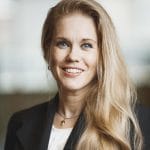 Therese Sundberg, Management Leader for the VVS Info team here at Softronic, will also be there to monitor what is happening on the market and to support her customer.
"I think it's fascinating that so many people have been able to make the transition and go digital. At Softronic, we work with digitalisation, so it's natural for us as a company to help other companies and organisations with their digitalisation work. But this is a slightly bigger challenge for sectors like HVAC. It's going to be exciting to be involved at the Fastighetsfokus VVS digital trade fair and also to be on VVS Info's stand."
VVS Info has worked with Softronic to transform the RSK database from a bank of product catalogue numbers to becoming perhaps one of the most extensive HVAC product information databases in the world, with images, documents and instructions. It is fully Internet-based and is used daily by the various companies and organisations in the sector.
For more information about VVS Info and the RSK database, visit: https://www.vvsinfo.se/.

"Our collaboration with Softronic enables us to continually develop our services through close dialogue with the developers in our team at Softronic, while also having access to all of Softronic's extensive expertise when we need it. This allows us to develop new solutions fairly quickly, while providing a stable platform for our services in the long term. This is something we really appreciate about working with Softronic," says Hans Karlsson at VVS Info.
This trade fair is for professionals in the HVAC sector, including HVAC consultants, installers, property owners and property managers.
Related links:
Register for the trade fair here: https://fastighetsfokusvvs.se/
See our customer case study here.