Microsoft Power Platform
Do you want to be a more efficient workplace? Do you want to have a modern and more interactive platform for your employees? Do you want to facilitate collaboration and workflows?  No matter what you want to achieve, Microsoft Power Platform is the service for you.
Power Platform can make your business easier with your own apps to support your daily work, which in turn are easily accessible and user-friendly regardless of device (PC, mobile, tablet, etc.). For example, you can automate flows that handle an approval process with interaction with M365 users. You can compile and filter information from different internal or external sources and present it in an attractive way. Artificial Intelligence that analyzes images and executes predetermined commands and events.
The Power Platform tool palette has four main features:
PowerBI

market's most powerful BI tool 

 

PowerApps

for proprietary built applications 

 
Power Automate

create automatic flows  

 

Power Virtual Agents

create powerful chatbots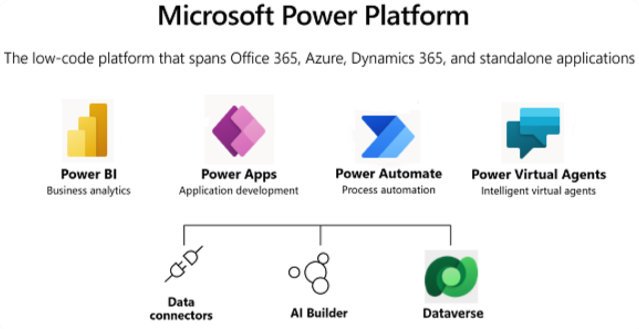 PowerApps is also possible to build as interfaces with databases (ex Business Central), Excel, SharePoint, etc. You can also migrate the LotusNote app to Power Platform. You only need a license to develop apps, but it's free to use  
Applications and uses
We at Softronic have built several tools in different application areas, but in practice the possibilities are limitless. Here are some examples of successful applications: 
Purchase request from employee and direct connection to Business Central (BC)

 

View the location and number of employees in the office, as well as additional information on an interactive map

 
Application for quality management system where several levels of the organization can practically register and follow up your progress

 

Onboarding apps that introduce new employees and welcome them to the company

 

ChatBots that handle helpdesk queries

 
We help you
Although the Power Platform tool palette is simple and intuitive, it's a good idea to get started with experienced expertise, whether it's all or part of Power Platform.
Softronic can offer both experience around the platform and on practical applications:
Do analysis of the current situation and develop an action plan 

 

Plan, prepare and conduct workshops

 

Design and develop

 

Testing and rollout

 
Contact